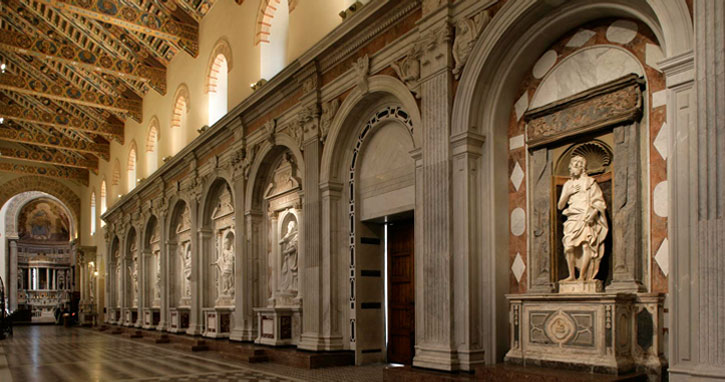 The first statue of the right aisle represents St. John the Baptist. It was commissioned by Giovan Giacomo Campagna, in 1525. His coat of arms appears on the base. The statue was sculpted by Antonello Gagini. It was not destroyed in the 1908 earthquake and was miraculously unscathed by the fire in 1943 and restored since then.
Along the nave there are six chapels for the statues of the Apostles: St. Jude Thaddeus by M.M. Lazzaro; St. Mattew by G. Ciocchetti; St. James the Less by B. Poidimani; St. Thomas by A. Selva; St. James the Great By E. Tadolini and St. Paul by P. Canonica.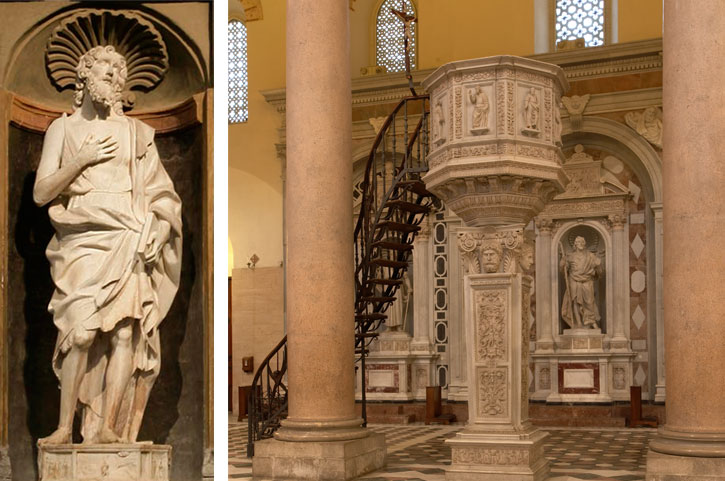 Below the seventh arch there is the pulpit, a faithful copy of the original, attributed to Andrea Calamech, 16th century, which was badly damaged in the 1908 earthquake and completed destroyed in the Second World War. It has a chalice shape and the pedestal is abundantly decorated with floral patterns; the capital bears relief sculptures of the heads of the four heresiarchs: Mahomet, Zwingli, Calvin and Luther. The octagonal shape pulpit is decorated with eight bas-reliefs, which depict the theological Virtues, Christ giving a blessing and the four Evangelists.
A wooden door leads to the south entrance. The marble Gothic door presents, in the lunette, a glazed ceramic statue of St. James the Great, by Mario Lucerna, 20th century. On the walls, four bas-reliefs from the old Chapels of the Apostles depict episodes of the lives of St. Paul, St. Thomas, St. James the Less and St. Jude Thaddeus.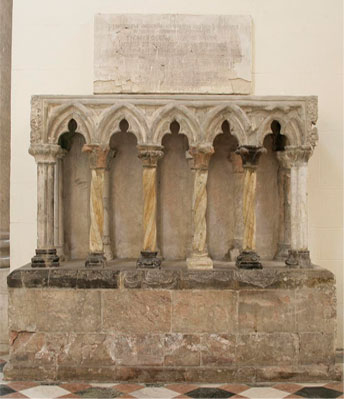 A marble door dated 1498 leads to the Museum of the Treasure of the Cathedral.
The museums exhibits a precious collection of about 400 works made of gold, silver and precious stones. A real masterpiece is the 17th century Golden Manta of the Madonna of the Letter, a priceless golden cover made of finely engraved gold decorated with hundreds of jewels donated to the Virgin Mary. It was by Innocenzo Mangani in 1668.
Continuing along the aisle, there is the tomb of the five archbishops; it was originally built to hold the remains of Archbishop Jacopo Tudeschi; in the 16th century, the remains of other four Archbishops were placed in it. The monument's Gothic structure is made up of a dark marble base from which rise five small trilobate arches supported by small columns with different capitals, coming from pre-existing monuments.
Opposite it there is a confessional made by Giuseppe Mangano in 1955, from a design by Adolfo Romano.