On the façade of the bell tower the scenes vary according to the liturgical calendar, in the following order:
From Christmas to Epiphany: the adoration of the shepherds. The shepherds pass and bow before the Christ Child, the Virgin Mary and Saint Joseph.
From Epiphany to Easter: the adoration of the Three Kings, led by a comet. The Kings, each one accompanied by a valet, adore the Infant Jesus who is held in the Virgin Mary's arms.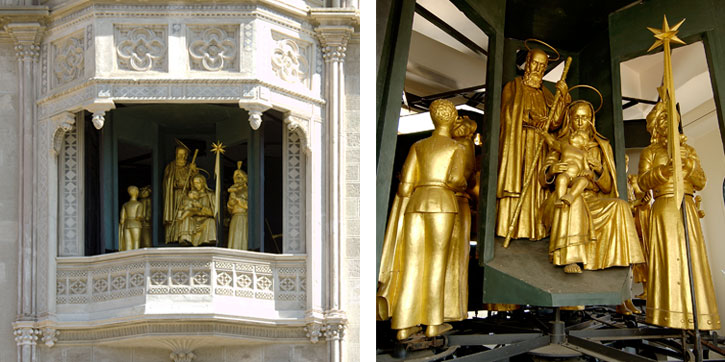 From Easter to Pentecost: the resurrection of Jesus. Two soldiers keep watch over the Sepulcher, from which, as they watch in dismay, Jesus rises.
From Pentecost to Christmas: the descent of the Holy Spirit. The twelve apostles are in the cenacle around the Virgin Mary. A dove, symbol of the Holy Spirit, flies over the Apostles; flames appears on their heads, while they raise their arms.